• carbon footprint • eco travel • plastic free living • travel mad mum
Isn't it crazy that I only became aware of the concerns surrounding plastic when I became a mother? Shopping in the baby section, I kept seeing the term 'BPA' free. What did it mean? I learnt it was a chemical found in plastic that can affect babies. There was very little education about what it meant and there was no real in-depth explanation. I didn't think too much more about it until I met my mummy friend Cindy AKA Earth Mama. She was so incredibly passionate about plastic-free living, and taught me so much about how plastic can cause all...
---
• eco travel • plastic free living • plastic free tips • travel mad mum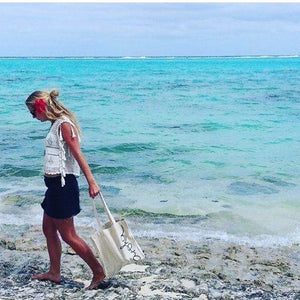 We had been living in Rarotonga just a week when a moment occurred that has stuck with me since. Sadly, not for a good reason. This same thing has happened again over the last nine months of living here. While enjoying the peace and sunshine at a beautiful beach in the south of Rarotonga, I noticed a wee scuttle not far from me. On closer inspection, I realised what I was looking at was a crab. Problem is, this little crab had decided to take up permanent residence in a clear plastic water bottle lid. The second time I saw this was...