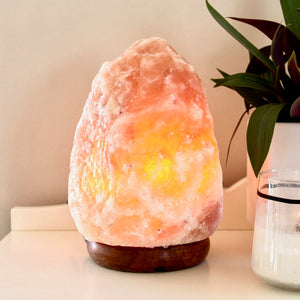 Mt Meru
Himalayan Salt Lamp (with Dimmer Switch)
Regular price
$32.00
$0.00
Unit price
per
Tax included.
Himalayan Salt Lamp with DIMMER switch
Imported directly to New Zealand from the foothills of the Himalayas.
We have two sizes available. 1-2kg and slightly larger 3-5kg. 
Deep in the foothills of the Himalayan Mountains, the purest salt in the world was formed over 250 million years ago. Today, talented craftsman and artists, carefully select, hand carve and shape the unique salt crystals that are used to create these Himalayan Salt Lamps.
The natural beauty of these Himalayan Salt Crystal Lamps are the perfect accent to any room in your home or workspace. These Himalayan Salt Lamps make the perfect night light for your baby or child's bedroom as they come with a dimmer switch.  
They can be used in offices to reduce fatigue. A lamp can minimise the effect of electromagnetic radiation and improves your concentration and refreshes you by neutralising the effects of an artificial environment.  
Included:
1-2kg or 3-5kg Himalayan Salt Lamp, sits on a hardwood base. 
1 x power cord with dimmer switch
2 x bulbs 
Please note:
Each lamp is unique and comes in different shapes and designs.
Colour varies from light pink to dark orange.
The picture is an indication of what we stock. You may not get this particular lamp, but a similar lamp in the same weight bracket.
Care:
The size and wattage of these bulbs makes them very fragile. To extend the life of your bulb please ensure they are screwed tightly into the light fitting and do not move the lamp while it is on. Salt lamps are designed to stay on 24/7 and turning these on and off will blow these small bulbs. Small and large power surges will also shorten the bulbs life. With proper care, these bulbs can last for months.

 Earth Mama cannot be held responsible for blown bulbs.

When the salt lamp is switched off, salt water will weep out of the salt. This is the water that the salt has absorbed from the air whilst on.  Place a plate underneath the lamp to hold liquid as to not damage the surface it is sitting on.
---
Share this Product
---